Water Damage in Iredell County
Our Restoration Services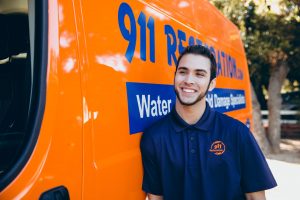 911 Restoration of Iredell County is a full-scale service. We've been active in North Carolina for over two decades and have made a name in the market. Thus, not only don't you need to hire different contractors but you get the best in the business for every problem. 

You can get professional help dealing with mold remediation and water damage restoration in Iredell County 24/7/365 at 704-519-2331. Our team can reach homes and businesses around Mooresville, Salisbury, Hickory and the Statesville area within 45 minutes of an emergency call. Technicians can provide a free visual mold inspection for property owners only once they arrive.
Fire Damage
We know how costly dealing with a fire can be. More importantly, we understand how quickly the damage can escalate if you don't act quickly. So, give us a call ASAP and save thousands of dollars in repairs down the line. 
Here are the top causes of fires in Iredell County:
Wildfires

Bad wiring

Candles

Cooking

Faulty equipment

Flammable liquids, etc. 
No matter how the fire starts, you need to call the fire department right away. Once it's out, call us for a quick inspection. We can determine the type and extent of fire damage and offer the right fire damage restoration solution. We'll take care of the repairs promptly and return your home or office to its old condition. Our phone number is 704-519-2331.
Amanda Wright
Brooke and her team is very knowledgeable and awesome to work with. They were quick to go out and access a property after mold was found that was for sale and set to close soon, supplied us with plan and got started right away, even working thru bad weather so we could close on time. Highly recommend this team!
Top-Tier Commercial and Residential Restoration Service in Iredell County
Need help with mold, fire, or water damage restoration in Iredell County? Call 911 Restoration!
No home or business owner in North Carolina is a stranger to storms, fires, and other disasters. The North State's prime location for a rough climate often leads to homes and offices needing restoration services. We are a nationwide commercial and residential restoration service with a team of IICRC-certified cleaners, structural engineers, and other tradesmen in our industry. 
For over 25 years, we've helped thousands of clients return their properties to their original condition using the latest tools and solutions at first-rate prices. So, whether you're dealing with a roof leak, foul smell, flooded basement, or soot-stained walls after a fire, we can help. 
Our phone lines are 24/7/365 so waste no time at 704-519-2331. Call 911 restoration of Iredell County and we'll respond to your emergency in less than 45 minutes.
Service area map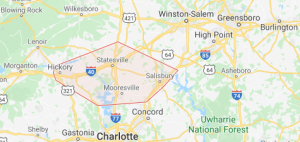 Water Damage Restoration in Iredell County
Most people overlook or underestimate the damage water can do to their properties. Water affects buildings on many levels when it creeps into walls, ceilings, floors, and other places it shouldn't be due to:
Burst pipes

Roof Leaks

Basement flooding

Clogged gutters

Blocked drains

Leaking equipment (fridge, washing machine, dishwasher, etc.)
Once the water seeps into different surfaces, it can result in:
Mold growth

Pest infestation

Wall discoloring

Rotting or swelling of wood

Rusting

Stains in the ceiling, etc.
To avoid or minimize damage caused by any of the issues above or others, call 911 Restoration right away for water damage restoration in Iredell County. Our team can quickly inspect and find the main source (leak) and fix it right away.
Additionally, we can also restore any salvageable items (documents, furniture, appliances, etc.) and deep clean your home using quality products. We've been serving North Caroline for over two decades so there's nothing we haven't seen or not dealt with before. So, let us lead your project while you enjoy a smooth recovery experience. Call us at 704-519-2331.
Sewage Backup 
Sewage contains fecal matter, urine, and wastewater – all carrying bacteria, viruses, and toxins that can cause many health issues, such as COVID-19, fever, diarrhea, etc. Plus, sewer gas contains methane, ammonia, and sulfur dioxide, which can cause eye irritation, nausea, and headaches. Therefore, you should leave sewage backup cleanup to trained professionals with proper equipment. 
A sewage backup is usually caused by:
Clogged sewer lines

Overgrown tree roots

Floods due to storms and hurricanes

Sump pump failure, etc.
Once we determine the cause, we use EPA-registered cleaning products and follow the best safety measures to remove, clean, and dispose of sewage. Our team works fast to make sure your property is safe and habitable.
Mold Removal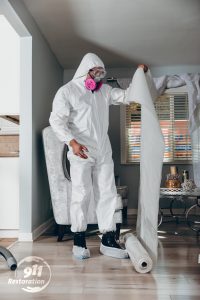 Mold inspection and mold removal is an essential part of water damage restoration in Iredell County due to the state's climate. These parasitic fungi thrive in damp environments and eat the surfaces it grows on, such as:
Ceilings

Walls

Furniture

Insulation

Carpets

Floors

Clothes

Books, etc.
Therefore, you need to act quickly and protect your home or office from costly damages down the line. Moreover, mold spores are a health hazard and prolonged exposure can lead to issues, such as:
Eye irritation

Headaches

Coughing

Itching

Difficulty breathing, etc.
Plus, it has a foul, musty smell that can make your property stink. So, let us inspect your property for leaks, spots, contaminated surfaces, and other signs of mold presence. Once we find it, we'll collect a sample for testing to determine the mold type and find the best remediation solution accordingly. 
Mold can easily go undetected for years and incur thousands of dollars on repairs and medical bills. It can also reduce your property's value as well.
Call Us Now
No matter where you live in the United States, property damage is inevitable. So, whether it's due to a storm, fire, mold, or even old age, your home or office can sustain different types of fire, water damage, and disaster restoration. Our phone number is 704-519-2331. Thus, you always need to be prepared for the worst and take proactive measures to manage risk and save as much money as possible.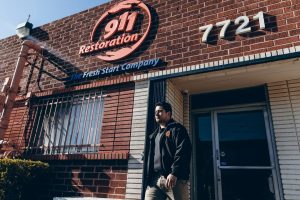 911 Restoration is a leading nationwide restoration service with over 25 years of experience. So, no matter what type of damage your property has undergone, our experts can help. Plus, we can also inspect your property for potential issues and take care of them before they become a problem in the future. We serve homes and businesses around Mooresville, Salisbury, and the Hickory area.
We're open 24/7/365, so don't hesitate to call us at (704) 519-2331 for more information regarding our services related to fire and water damage restoration in Iredell County.