Water Damage in Iredell County
911 Restoration of Iredell County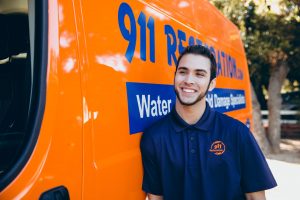 Property owners in Iredell County deserve to have access to immediate residential and commercial restoration services from a qualified company they can trust.
911 Restoration of Iredell County fulfills this role by providing property owners with iredell water co, mold removal, fire restoration, sewage cleanup, and disaster restoration.
If you need emergency water damage restoration in Mooresville or surroundings, the repair techs are available 24/7/365 to assist you. They guarantee to arrive at your property within 45 minutes of receiving your call, prepared to implement same-day services. Call us at (704) 519-2331 and allow us to offer you a free visual inspection.
Repair techs offer free visual inspections to property owners, during which they will determine the extent of the damage and put together an estimate. They will also answer any questions you may have to ensure you feel comfortable with the restoration process.
Our technicians will help you get back on track after any of these issues impacts your home or business by repairing the damage and supporting you throughout the entire process.
Customer services is just as important to us as the restoration work we provide and the staff at 911 Restoration makes it their priority to make each customer know that they care and understand their needs.
We offer assistance to property owners all over Iredell County, including Statesville and Mooresville. So, call 911 Restoration of Iredell County when you need professional restoration services, and a team of experts will turn water damage into a Fresh Start.
Amanda Wright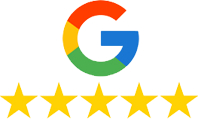 Brooke and her team is very knowledgeable and awesome to work with. They were quick to go out and access a property after mold was found that was for sale and set to close soon, supplied us with plan and got started right away, even working thru bad weather so we could close on time. Highly recommend this team!
Water Damage Restoration
Most property owners deal with water damage in their homes or business at one time or another. Water can invade your property via pipe bursts, rainfall, leaky roofs, and toilet overflows, but no matter how it gets inside your property, the important thing is to get it out as soon as possible.
Leak and flooding issues need to be dealt with immediately to prevent rot, mold, and structural issues, all problems that our repair techs can solve. They will implement emergency water extraction, drying, and dehumidifying services that will ultimately restore your property.
If your home or business becomes flooded technicians will use powerful wet vacs and sump pumps to extract the water and then set up drying equipment and dehumidifiers to remove every remaining trace of moisture.
Call the experts in Iredell County today and let them prove to you that water damage restoration may actually be the Fresh Start that you need. Call us at (704) 519-2331 and see how we can help.
Service area map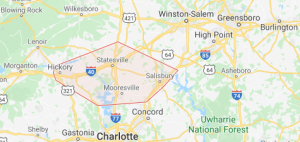 Sanitization Services & Disinfection Solutions
The coronavirus pandemic has reached a global status in its impact. For this reason, we all need to contribute to the solution by doing our part. Fortunately, we can all start by first maintaining our personal hygiene. So what happens if you have water damage in Iredell County?
For property owners, they have a responsibility to go further by making sure their buildings remain sanitized according to protocols. With these protocols, people who come and go will remain as protected as possible. That's why 911 Restoration of Iredell County provides sanitization services in addition to various disinfection solutions for both residential and commercial properties. Every one of our technicians stays on top of their training to ensure full compliance with all current CDC and EPA protocols in an effort to deliver optimal results with our sanitization services. With a cooperative effort, we can succeed in beating this problem. You can count on us to be there to provide peace of mind.
Mold Removal
Where there is water damage, there is usually mold 911, especially if the leak or flood problem has persisted without mitigation. If you have a leak under your sink or water stains on your ceiling, there is most likely also mold growth present.
A mold infestation occurs a lot quicker than you might think. Spores grow within 24 hours after exposure to moisture.
It is crucial to reach out to mold removal service as soon as you discover signs of an infestation in your home or business. This can prevent mold from eating through your property and degrading the air quality inside the property.
Our IICRC-certified technicians will address both the mold and water damage issues you may be experiencing by implementing comprehensive restoration services. Call 911 Restoration of Iredell County today at (704) 519-2331 for mold removal services, and you can ensure that you and your family will be living in a safe environment and breathing clean air.
Fire Restoration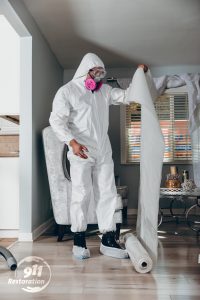 A fire can engulf a property within five minutes, leaving a home or business filled with smoke, ash, and soot that can cause permanent damage if it is not addressed quickly.
When the fire department puts out a fire, they have to use hundreds of gallons of water, which ends up flooding the property and creating significant flood damage.
The repair techs provide water damage restoration services while they conduct the fire restoration because they know from experience that the two issues go hand-in-hand.
It is crucial to call us as soon as the fire department has put out the flames. We will begin putting the pieces of your property back together again through expert fire restoration services.
Sewage Cleanup
Sewage spills can occur within a home or a business in several ways. This can be via toilet overflows, septic tank bursts, or some other plumbing issue. Sometimes, it can be completely unavoidable, such as a neighbor's construction project.  Whatever the case may be, it's never an easy task. When any of these incidents occur, they should be remediated immediately to avoid health risks.
By hiring our sewage cleanup unit, you can trust that we will safely remove all the black water from your property and thoroughly sanitize the premises. Technicians use deodorizing techniques to remove that sewage smell and leave the property looking and smelling fresh and clean.
When your home or business is affected by a sewage overflow, call us at (704) 519-2331.
Disaster Restoration
Natural disasters can arise quickly and sometimes without warning. They bring chaos into your home or business that can disrupt your daily life in a significant way.
Iredell County is susceptible to being impacted by tropical cyclones, hurricanes, tornadoes, and even wildfires. Fortuantely, 911 Restoration has experience handling all of these disasters and more.
By receiving immediate assistance after a storm, flood or fire has damaged your property; you can have a chance at fully recovering your losses and moving on from any disaster.
911 Restoration of Iredell County employs repair techs who are experts at disaster restoration, and they are looking forward to renovating your property. So, call us today, and we will do whatever we can to give you the Fresh Start you deserve.
Commercial Restoration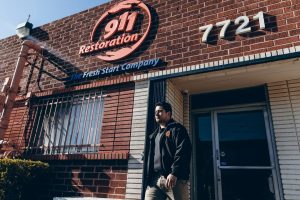 Our technicians are trained to restore commercial properties after disaster strikes. Along with handling water damage, mold, and fire issues in residential properties, your business is in good hands.
We understand how important it is to get your business open. Our repair techs work hard to get things up and running again.
By using state-of-the-art equipment, our experts work efficiently and fast. We remediate water damage, eradicate mold, clean up soot, and smoke, and sanitize after a sewage overflow.
We pride ourselves in our multi-pronged approach when it comes to implementing restoration services, and by doing so, you won't ever have to hire another restoration company again, call us at (704) 519-2331.