Disaster Restoration
Disasters can occur unannounced. Iredell County, North Carolina, experiences storms, cyclones, hurricanes, and floods, all of which can damage property. Containing disasters of this nature can be very difficult on your own. This is why every property owner needs professional Disaster Restoration in Iredell County.
We have a team of IIRC Certified experts who know how to handle different types of disasters. Disasters can be financially and emotionally draining for property owners. In such an event, you need reliable Disaster Restoration services in North Carolina. 
You can get professional help dealing with disaster restoration in Iredell County 24/7/365 at 704-519-2331. Our team can reach homes and businesses around Mooresville, Salisbury, Hickory and the Statesville area within 45 minutes of an emergency call. Technicians can provide a free visual mold inspection for property owners only once they arrive.
Disaster Restoration in Iredell County 
At 911 Restoration, our aim is to be there for you. When disaster strikes, you don't know where to start to clean up. This is where we serve you. We ensure transparency, so we can get your valuable feedback and make sure you are 100% satisfied with our services.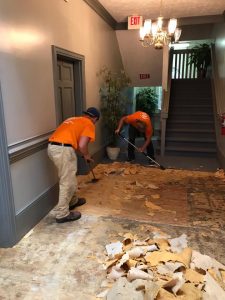 Our team is ever-present. Disasters know no time. They can happen early in the morning or late at night.
In such an event, you need help immediately. You can call us 24/7, 365 days a year, even on holidays. You can rest assured that we maintain the same high-quality service no matter the time or day. Our phone number is 704-519-2331.
In addition to that, we have a quick emergency response time.
As soon as you call us, we will reach your property within just 45 minutes. We bring the necessary equipment to handle any magnitude and extent of damage to the property.
We offer complete restoration. Once you call us, you don't have to go anywhere else. 
Free Visual Inspection

Water Damage restoration

Fire Damage Restoration

Mold Damage Restoration

Emergency Repairs and Board-up Services

Cleaning and Disinfection
Water Damage Restoration Iredell County 
Water damage is common in homes and offices throughout North Carolina and can be hard to contain. This is why you can get in touch with our expert water damage restoration in Iredell County. Call us at 704-519-2331.
Common causes of water damage include:
Floods

Storms

Cyclones

Hurricanes 
If you don't control water damage, it will quickly lead to other types of damage too. Our team of experts have been in the business for over 25 years, and they know just what to do. They first conduct a visual examination free of cost. We then proceed to remove the water with high-grade equipment. We make sure we extract water from every nook and cranny. After that, our team will dry the area and dehumidify it to stop mold formation.
Fire and Smoke Damage Restoration
Disasters involving fire can be life-threatening. Wildfires are common in North Carolina. Going through a fire can be very traumatic. In such an event, you can call fire and smoke damage restoration in Iredell County. We will reach your place, and prevent further damage to your property.
We will handle:
Fire damage restoration

Smoke and soot removal

Fire Cleanup 

Emergency board up services

Water damage restoration

Cleaning
Mold Damage Restoration 
Mold is often a part of water and fire damage. When there is a flood or pipe leak, water can seep into tight corners.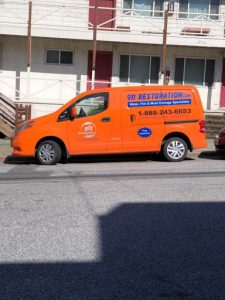 If this water is not removed, it will lead to mold. Mold starts to form within just 48-72 hours. Water is used to extinguish fires. Once again, this water can lead to mold growth.
Mold eats away organic materials and causes a range of health problems.
Our Disaster Restoration also includes mold damage restoration. We ensure we not remove mold, but also prevent its re-growth. Our team of experts will extract water with high-grade equipment.
We then use dehumidifiers to dry the property and bring down humidity levels. This will prevent further mold growth.  
Commercial Restoration Iredell County 
Commercial restoration is important because your office is your source of income and livelihood. It is important that you use professional commercial restoration to avoid higher costs in the long run. Timely commercial restoration is essential to contain the damage as quickly as possible.
Our team is professional and highly skilled at what they do. As soon as you place a call, you let us handle everything for you. We also work with all insurance companies to help all commercial property owners with insurance claims.  Our team of highly trained technicians give you the peace of mind you need after a disaster. 
Residential Restoration Iredell County
Homes can experience water damage from heavy rainfall, snow, or even a pipe leak. It can be disastrous to come home to a flooded basement. If you go through that, you don't need to panic. Simply place a call to us and let our experts take over. We are here to service you all through the year, round the clock. 
Our team cares about you and understands your needs. We work with you every step of the way to restore your property to pre-damage condition. After our free visual inspection, we quickly move on to contain the damage. We board up any broken windows and doors to stop theft. We also use tarps on damaged roofs. 
Cleaning
911 Restoration ensures a complete cleanup, leaving your property as good as new. Disasters like floods can bring contaminated water into your property. Infected water will cause diseases to residents. After we ensure a thorough water extraction process, we sanitize and disinfect the property. This way, we ensure that the property is now safe for you to enter and live in. 
No Disaster Is Too Big for Us
No matter the disaster you encounter, you can call 911 Restoration of Iredell County at 704-519-2331. We will reach your property in 45 minutes. Allow us to give you and your property the Fresh Start it needs. Whatever it is, we are here to service you. With our complete, all-in-one restoration, you will find your home or office in pre-damage condition or even better than before!