Disaster Restoration
North Carolina has seen every type of natural disaster, from earthquakes and wildfires to hurricanes and tornadoes, all situations that require professional disaster restoration services.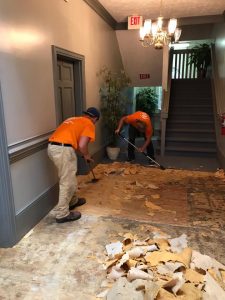 Being a property owner in Statesville or Mooresville during times of severe weather can be difficult, especially when torrential rainfall is pouring down on your home or business, causing water damage and home flooding issues.
911 Restoration of Iredell County knows how crucial it is to provide emergency storm repairs to property owners, which is why we keep our office open 24/7/365. Once you call us reporting a ceiling leak or house flood, we will get repair techs to your property within 45 minutes.
By administering speedy water damage repair, we will limit the extent of the destruction, not only saving you time and money but giving you the peace of mind you need during the chaos caused by a natural disaster.
Our entire operation is licensed, bonded, and insured for your protection, as well as being IICRC Certified, so you can fully trust in our ability to provide top-of-the-line disaster restoration services.
Call 911 Restoration of Iredell County when you need same day service after a disaster has impacted your home or business and our technicians will turn your flood damage into a Fresh Start.
Hurricane Preparedness May Prevent Water Damage
Powerful storms frequently ascend upon Iredell County, with hurricanes being one of the most destructive forces that many property owners have to encounter.
The peak of the hurricane season occurs between the months of August and September, which is when 80 percent of the storms are generated in North Carolina.
By preparing your property at the beginning of the year, you may be able to limit theiredell water co created in your property by a hurricane. You may be surprised by how much of a difference it can make to initiate some simple maintenance.
The wind created by hurricanes and tornadoes can be strong enough to lift heavy objects and blow them into your property, shattering windows and causing structural damages. Clear your yard of lawn furniture, BBQs, propane tanks, bikes, and other large items to prevent this from happening.
A shattered window can let rain and other debris inside your property. Cover your windows and entryways with storm shutters to prevent them from becoming broken or blown off during a storm.
Clear the gutters and downspout on your roof from leaves, twigs, and debris to stop rain from spilling into your roof and foundation. Check that the downspout is in proper working condition and causing water to flow at last 10-15 feet away from your property.
Remember that even if you take all the necessary precautions, it is still possible to experience issues caused by a hurricane. If this is the case, call 911 Restoration of Iredell County right away to receive immediate disaster restoration services.
Know Who To Call When Your Home Becomes Flooded
Experiencing a flood on any scale is an overwhelming situation to be in, and no one should ever feel as if they have to deal with such an issue on their own. The technicians at 911 Restoration of Iredell County are ready to respond to a flooding emergency on a moment's notice.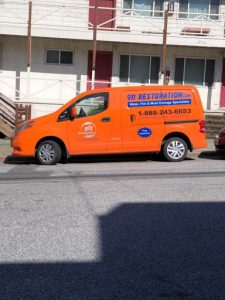 Repair techs in Statesville will start the flood cleanup process off by giving the property owner a free visual inspection where they will look for the source of the flooding and determine the scope of the damages.
911 Restoration of Iredell County sets themselves apart from the other disaster cleanup companies by providing such a wide range of disaster restoration services.
For example, if we are called to fix a water leak in the ceiling and discover signs of a mold infestation, we will implement mold 911 decontamination services. Or if a pipe burst floods your home and we find that sewage has spilled into the property, we will come up with a sanitization and deodorization strategy.
Whatever you may need, whether it be water extraction and drying services or sewage cleanup work, you can trust in our specialists to care and understand what you need as a property owner in Iredell County.
So, call us when you need flood repair, pipe burst, ceiling leak, or any other disaster restoration service, and we will get your property clean and dry in no time!