Mold Removal in Iredell County
First-Rate Mold Inspection, Remediation, and Removal Services
Have you been noticing a foul, earthy smell coming from the basement?  Do you need mold removal Iredell County?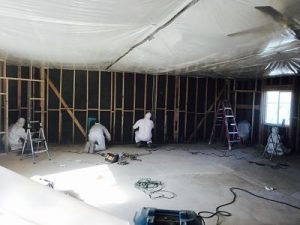 Or perhaps, you've come across black spots or stains on your walls and ceilings. These are just a few signs you might have a mold problem in your home or office. But fear not! 911 Restoration's IICRC-certified mold removal and remediation team is just a phone call away to check and undo any type or level of damage. 
You can get professional help dealing with mold removal and mold remediation in Iredell County 24/7/365 at 704-519-2331. Our team can reach homes and businesses around Mooresville, Salisbury, Hickory and the Statesville area within 45 minutes of an emergency call. Technicians can provide a free visual mold inspection for property owners only once they arrive.
Our team has the latest moisture meters, infrared cameras, air sampling tools, and other fungi detection equipment. Moreover, we only use EPA-recommended fungicides and cleaning products.
Thus, you can rest assured we've got what it takes to rid your real estate of these parasitic fungi once and for all.
Mold and North Carolina – A Dangerous Combination
Mold thrives in damp and humid conditions. This makes North Carolina an ideal habitat for mold growth due to humidity levels of over 70% – one of the highest in the country. 
Therefore, Iredell County residents in the North State should always be on the lookout for signs of mold in their homes, especially during the hurricane and warm seasons. 
Here are some of the key signs:
A musty, rotten odor emanating from walls, furniture, books, etc.

Black, white, gray, or green spots on ceilings, drywalls, and floors.

Fungus in the furniture

Spotted clothing

Residents with persistent health issues, such as sneezing, runny nose, itching, asthma, cough, cold, etc.
Top Causes for Mold Growth
Here are the most common causes of mold growth in Iredell County:
Roof Leaks

Foundation cracks

Persistent high humidity and stagnant air due to poor ventilation in kitchens, bathrooms, and other high-moisture spaces

Basement flooding due to storms, burst pipes, or sump pump failure

Faulty HVAC system or dirty vents

Window cracks and holes

Hidden or neglected pipe leaks 

Humid weather
How 911 Restoration of Iredell County Removes Mold
No matter the cause of mold growth, our team of mold removal Iredell County specialists can quickly inspect and address the source and issues to restore your home or office to its pre-mold condition. Our phone number is 704-519-2331.
Plus, you can also hire us to proactively inspect your property for any issues and prevent bigger problems down the line. 
Here's our standard operating procedure:
1. Inspection
Our first order of business upon arriving at your property is to thoroughly inspect the affected areas. Next, we use the latest detection equipment in the market to determine the scope of the damage. This includes infrared sensors, moisture meters, sampling kits, etc.
Using our detailed findings, we can create a quick report for insurance claims. It will include photos, videos, and other details you can use as evidence. We'll provide you with a complete cost estimate and expected timeline. 
2. Containment and Repairs
Next, we'll employ containment strategies and engineering controls to stop the spreading and cross-contamination. This typically involves using HEPA filters to create negative pressures and remove spore particles from the air. 
We also remove anything damaged, such as carpets, books, furniture, clothes, etc. Once that's out of the way, we handle all major or minor repairs, from a small roof leak to a sewage backup in the basement.
3. Deep Cleaning and Drying
Once we've fixed the damage, we deep clean all surfaces in the vicinity using EPA-registered products. We also use fans and vacuums to quickly dry everything and complete the mold removal process. 
Why Choose Us?
Skilled Technicians
911 Restoration's mold removal specialists and professional cleaners are screened, fully insured, and IICRC-certified to remediate mold damage.
State-of-the-Art Equipment
We constantly upgrade our tools and solutions according to the emerging technologies in the industry. This helps us work faster, smarter, and more efficiently.
Full-Scale Service
Our team takes care of every aspect of the mold remediation process. This includes inspection, reporting, claim filing, and repairs. We also remain in contact with clients at all times, so you know what's happening at each stage.
Quick and Thorough Cleanup
We treat every mold-infested home or office as if it were our own. We identify the source location, mold type, and damage extent to devise a custom remediation solution for each client.
Call Us Now for Mold Removal Iredell County
911 Restoration is a leading restoration service. Moreover, we've been in the business for over 25 years and have helped thousands of owners in Iredell County rid their homes and offices of mold. So, quit your "mold removal near me" search and call us at (704) 519-2331.
We're open 24/7/365, so you can reach us anytime. As soon as you do, our team will arrive at your property within 45 minutes. Call us at 704-519-2331.