Mold Removal in Iredell County
Just like any other living thing, mold and fungi need food and water to grow and, most of the time, those things can be found in your home or business.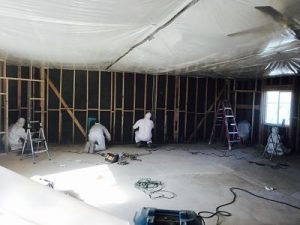 Wood, cardboard, paper, and water are found in most properties, and they are all sufficient sustenance for mold. As long as the environmental conditions are warm and damp, mold spores can thrive in your walls and ceiling.
911 Restoration of Iredell County understands that mold likes to live in places of the property that are out of sight, such as attics, basements, and inside walls, so they give property owners free visual mold inspections.
Catching mold before it turns into a full-blown infestation will not only save you money, but it will prevent structural damages from occurring. Mold can eat through your drywall and other wooden components of the building, potentially creating an unsafe environment for you and your family.
By receiving professional mold cleanup services, you can ensure the safety of your family and obtain peace of mind knowing that your home is a clean space for everyone to enjoy. Call 911 Restoration of Iredell if you live in Statesville or Mooresville to receive mold decontamination services from a company that cares and understands your needs.
Expert Mold Cleanup In Iredell County
It is common for mold to grow out of iredell water co that has gone unmitigated inside of a property.
Mold can proliferate, usually sprouting within 24 hours of being exposed to moisture if the conditions are right. When the internal environment is warm, damp, and dark, then you may find yourself dealing with mold.
Mold infestations can grow for quite some time without being seen, since it tends to live in attics, crawlspaces, under sinks, behind walls, and other places that are mainly out of sight.
The mold decontamination unit in Iredell County is IICRC Certified and knows exactly how to eradicate mold infestations without leaving any spores behind. Being meticulous when dealing with mold is crucial to preventing future outbreaks since spores can quickly become airborne and grow on other surfaces.
Property owners can trust us to implement a mold cleanup strategy that involves structural drying and dehumidifying procedures to make the home or business an inhospitable environment for mold to grow.
So, call 911 Restoration of Iredell County when you need highly trained technicians to give you peace of mind that your mold problem will soon be a thing of the past.
Free Visual Mold Inspections
It is crucial to catch mold at the beginning stages since it can multiply at such a fast rate. It is important to remember that if you can't see the mold in your property, it doesn't mean it is not there.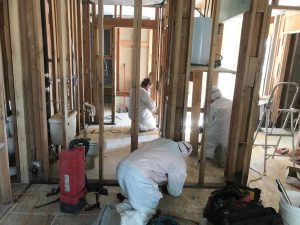 Other signs might indicate that mold is growing in your home or business, such as musty odors, rotting drywall, water damage, and the manifestation of allergy symptoms when you are inside of your property.
By hiring our mold cleanup experts to provide an initial mold inspection, you can feel confident that we will stop mold from influencing both your health and your home.
To be sure that the mold inside of your property is not a health hazard, technicians will take samples of the spores and send them to a third-party laboratory to be tested. The testing process will determine exactly what species of mold you are dealing with and allow us to decide if you need to leave the premises entirely until the infestation is eradicated.
Your safety is of the utmost importance to the mold cleanup team, so if a hazardous species, such as black mold, is living in your property, we will do whatever is necessary to protect you and your family.
Call 911 Restoration of Iredell County when you need a professional mold inspection in your residential or commercial property, and our technicians will give you a Fresh Start today!