About Us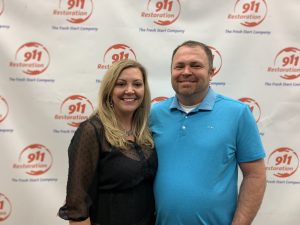 When Rick Goss and his wife opened 911 Restoration of Iredell County, he had a mission to give back to the community in a way that had never been done before.
By using 911 Restoration as the vehicle, Rick and his wife aim to help people when they need it most- right after a disaster has impacted their lives. By providing around the clock service, Rick is confident that he can turn any emergency into a Fresh Start.
Rick has been in the service industry for over two decades, and during that time he became an expert at providing customers with the care and attention they need to get through anything, no matter how desperate the situation may feel.
Before joining the 911 Restoration family, Rick started and owned his own appliance delivery business. Sometimes he would provide appliances to homes that were being renovated after a disaster had destroyed a part of the house and he saw how important this rebuilding process was to the families living in these properties.
Through these past work experiences, Rick realized he could do more with his talents to make a difference in peoples lives. They shaped the way he views the customer and has given him the work ethic he has today.
Rick hopes that he can prove his dedication to the community of Iredell County by providing high-quality, restoration services to owners of both residential and commercial properties, every day of the year.
Serving The Iredell County Community With Care And Compassion
When Rick says he wants to be available to customers all day, every day, he means it. 911 Restoration of Iredell County is open 24/7/365 because Rick and his team know that a disaster can occur at any moment.
His technicians specialize in water damage restoration, mold removal, sewage cleanup, and fire and smoke restoration, making them Iredell County's trusted service provider for every type of restoration work a customer could need.
Rick understands that when dealing with damage from a disaster time is of the essence, so he emphasizes punctuality. He will never make a customer wait for assistance, especially when water is involved, which is why his team adheres to their strict, 45-minute arrival guarantee.
He always follows through on his commitments and providing speedy restoration service is a promise he will never break. When a customer calls, they can expect repair technicians to be at their door within the guaranteed timeline, fully prepared to implement same-day services.
Rick genuinely loves to help people and through 911 Restoration of Iredell County, he can not only assist people during their time of need but turn the challenge they are facing into a Fresh Start.
Giving Customers A Fresh Start One Family At A Time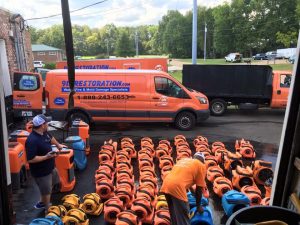 Rick and his wife wanted to do something different together and when the opportunity to open the Iredell County branch arose, they knew this was the way they could reach their goal.
They fell in love with 911 Restoration's Fresh Start attitude, which is the company's vow to turn any disaster into a positive situation. This viewpoint fell in line with Rick's passion for charity work, such as his involvement with Fellow Countrymen, an organization that helps Marines cope with difficulties concerning PTSD.
The idea of giving someone a Fresh Start is something very powerful. Rick knew that he wanted to be part of an organization that was able to turn a person's bad day around through positivity.
To meet a person when they are going through a vulnerable time, such as dealing with the aftermath of a flooded basement or kitchen fire and being able to turn that chaos into something new and good can be life-changing, and that is precisely what Rick wants to do.
Repairing someone's home or business and turning it back into the place they love and feel safe and successful within can be life-changing. Rick and the rest of the team at 911 Restoration of Iredell County urge you to call them the moment you need restoration services so they can give you the Fresh Start you deserve today!