Water Damage Restoration in Iredell County
Despite the majority of the year being filled with sunny days, Iredell County receives a lot of rainfall, putting homes and businesses at risk of becoming impacted by water damage.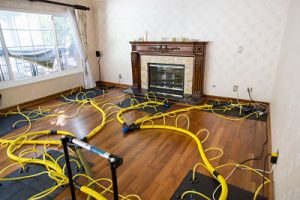 You can get professional help dealing with water damage restoration in Iredell County 24/7/365 at 704-519-2331. Our team can reach homes and businesses around Mooresville, Salisbury, Hickory and the Statesville area within 45 minutes of an emergency call. Technicians can provide a free visual mold inspection for property owners only once they arrive.
There isn't a situation that our technicians can't handle. They are IICRC Certified, making them qualified to implement the water damage restoration services needed to recover your property fully.
If you notice that your ceiling is wet or water has seeped into your basement after a rainstorm, call 911 Restoration of Iredell County at 704-519-2331 right away so technicians can give you the peace of mind you deserve.
Understanding The Seasonal Weather Conditions Of Iredell County
North Carolina experiences every season, and each one brings its share of obstacles that can put property owners in a situation that requires professional water damage restoration services to get back on track.
By understanding what weather patterns appear during each season, you can prepare your property to withstand the elements all year round.
Winters in Iredell County are cold, with temperatures dropping low enough to freeze pipes and create pipe bursts. Pipe bursts typically lead to home floods and create extensive water damage, which is why you should take measures earlier in the season to prevent this issue from occurring in the first place.
The spring could also be known as tornado season. This time of year is when the most tornado outbreaks occur. With tornadoes come torrential rainfall and strong winds, making it necessary to secure your roof and reinforce the seals of your windows and entryways.
Thunderstorms and tropical cyclones are prevalent throughout the summer, generating rain and wind strong enough to cause ceiling leaks, house floods issues, and structural damages.
Temperatures change the quickest during the fall, particularly from October to November. This drop in temperature keeps tropical cyclones a threat throughout most of the season, causing property owners to need flood cleanup services after these storms hit.
The technicians at 911 Restoration will provide property owners in Statesville, Mooresville, and everywhere else in Iredell County with water damage restoration services all year round. So, whether its summer or winter, give us a call right away at 704-519-2331!
Flood Cleanup After A Tropical Storm
The water damage caused by a tropical storm can be overwhelming, to say the least. However, by reaching out to 911 Restoration of Iredell County, you will have a flood cleanup company on your side that you can trust.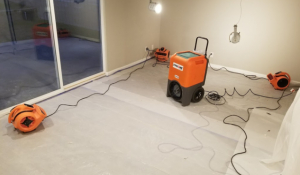 The repair techs implement complete water extraction, drying, and dehumidifying services, ensuring that your property is dry and clean.
We understand the toll that a tropical storm can take on your property and the importance of being thorough. By using state-of-the-art equipment, we will quickly and efficiently restore your property. We'll detect leaks, make repairs, and test and evaluate the structure of your home or business.
Storms can be powerful enough to flood your basement or first floor of your property, requiring emergency pack-out and storage services. Technicians will take care of this whole process for you, ensuring the safety of your belongings while we complete the water damage restoration process.
When you work with 911 Restoration of Iredell County, you will receive the help of a team that cares and understands your needs. So, call us at 704-519-2331 when you need water damage restoration and flood cleanup services, and we will give you the Fresh Start you deserve!