Mold Removal in Hickory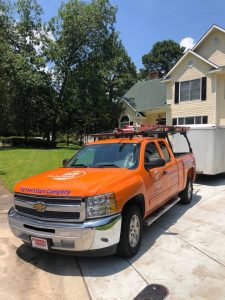 Take steps to completely eradicate a mold infestation in Hickory by contacting 911 Restoration of Iredell County right now. You can reach our IICRC certified mold removal techs 24/7/365 to get a Fresh Start. Mold remediation crews can arrive at your property within 45 minutes of your emergency call. Call us at 704-519-2331. They will come prepared to:
Perform a Free Visual Mold Inspection for Property Owners Only

Isolate All Areas of Your Property with Mold Growth

Get Rid of Mold Spores with Air Filters

Scrub Down Surfaces with Mold Growth

Disinfect Your Property with Mold Decontamination

Take Care of Odor Removal and the Removal of Mold Stains
As a full-service property restoration company, 911 Restoration of Iredell County can also fix the underlying causes of your mold infestation. Let us begin water damage restoration and mold cleanup in Hickory today. Getting same-day help with mold remediation can limit the total damage to your property and allow you to move forward with peace of mind.
How Long Will Hickory Mold Remediation Take?
You don't want to have to deal with mold growth in your property for any longer than is necessary. That's why Hickory mold remediation experts will begin same-day mold cleanup for you. Generally, the mold removal techs at 911 Restoration of Iredell County can complete their work within 1-to-5 days.
However, you should be aware that mold decontamination in Hickory sometimes takes longer to complete. The exact time for mold decontamination may depend upon:
The Type of Mold in Your Property

The Amount of Mold in Your Property

The Location of the Mold in Your Property
Mold cleanup techs can perform a mold inspection in Hickory to assess your unique needs. They can use the results of your mold inspection to personalize your mold removal plan. This can allow them to work more effectively on mold remediation, quickly returning your property to better-than-new condition. You can count on us to work tirelessly on the restoration of your property. Our phone number is 704-519-2331.
What Causes Mold Outbreaks in Hickory?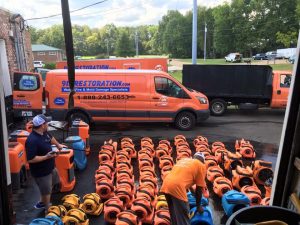 Mold outbreaks in the Hickory area can have a number of causes. Sometimes, mold grows simply because of high levels of humidity in your property. In other cases, mold infestations are a result of water damage emergencies, like hurricanes or pipe bursts.
The property restoration techs at 911 Restoration of Iredell County can help you with mold cleanup and they can repair the underlying causes of your mold infestation. Mold decontamination techs can look for the causes of your mold outbreak as they complete your mold inspection.
Techs can handle water extraction as they take care of mold removal in Hickory. They can also dry and dehumidify your home or business. Taking care of these steps can allow them to ensure your property is brought back to perfect condition. Handling water damage restoration can even reduce the odds that you will experience another mold outbreak in Hickory. Call us at 704-519-2331.
Servicing the cities of Catawba, China Grove, Claremont, Cleveland, Conover, Denver, Hickory, Landis, Linwood, Mooresville, Mount Ulla, Olin, Salisbury, Sherrills Ford, Statesville, Stony Point, Troutman, Woodleaf… and surrounding areas.