Water Damage Restoration in Linwood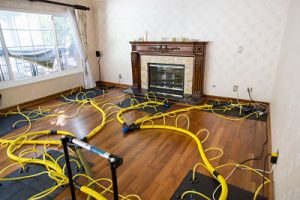 Being a property owner in Linwood is a rewarding yet challenging role. While you get the control that comes with being the owner, you also get the responsibility. Whenever property damage occurs, it's on you to take care of. The tricky thing is making sure you're in a position to take action quickly. Of the many types possible, water damage is the most common and destructive. Whether it's a ceiling leak or a pipe burst, the fact remains that emergency restoration is necessary. That's why our IICRC certified technicians are standing by 24/7/365 ready to assist with any mold remediation or water damage restoration needed by our Linwood customers. Whether you live in Linwood, Mount Ulla, Sherrils Ford, or another city in the Iredell County area, we guarantee to arrive within 45 minutes ready to get to work on your water cleanup service.
Mold only needs as little as 24 hours to begin growing when water damage is present. The longer the water is left standing, the greater the potential for mold to grow and spread throughout the property. Should this occur, you will find that mold removal services are practically mandatory in addition to the water damage restoration services you already needed. You can avoid needing additional services by taking prompt responsive action by hiring trained professionals to get the job done correctly the first time.
As soon as you're aware of the need for mold remediation or water damage restoration call 911 Restoration. Our technicians are standing by to assist you with anything from water damage inspection to house flooding. Call today to get the Fresh Start you need to start over in Linwood and surrounding Iredell County area.
Water Removal Companies
It's true that water removal companies are available throughout the Iredell County area. It's also true that not every company provides the comprehensive water cleanup services you need. Water restoration contains a number of steps that must all be completed. Failure to adhere to this practice can lead to further problems in the near future. That's why our IICRC certified technicians work tirelessly to deliver a water damage restoration process honed to perfection using a combination of ongoing training and years of experience. 
Before we get to work, we always start with a visual water damage inspection. Upon arrival, we work to analyze our findings so that we can better understand the extent of the water damage, the status of any existing mold infestation, and what repairs are required to restore the property to good as new. After the inspection is complete, we are ready to get started on our water extraction and drying process. During this part, we use nothing less than the latest water extraction equipment and commercial dryers to ensure the property is completely dried out.
Our technicians believe in providing a comprehensive approach. As such, we always go the extra mile to address what's needed. For this reason, we take the time to verify that all necessary repairs are completed before we consider the restoration complete. While we automatically repair the source of the water damage, we will also address any other repairs such as sheetrock installation and carpet replacement.
As soon as you notice or suspect mold or water damage, call 911 Restoration. We'll arrive within 45 minutes to get to work on your mold remediation and water damage restoration. Don't wait to get the Fresh Start you need to begin anew in Linwood.
Flood Cleanup Company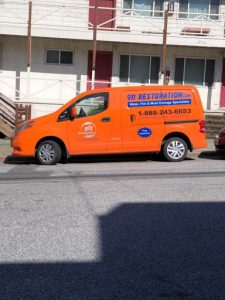 As your flood cleanup company, we know how important it is to address every aspect of house flooding. That's why our technicians take care of everything from pipe burst repairs to delivering our flood cleanup process. A flood cleanup process is necessary due to the large amount of water present along with the many contaminants present within the water. Floodwater may contain anything from dirt to raw waste depending on the flood source. Through this process, we not only guarantee customer satisfaction, but also safety and health for our Linwood residents.
Without fail, we always start with a combination of decontamination and mold decontamination. During this step, the objective is to completely neutralize the mold and bacteria present within the water. After this step is complete, we are ready to get started on our normal water damage restoration process.
Call 911 Restoration as soon as you need emergency restoration services. Get the Fresh Start you need to start over in Linwood.
Servicing the cities of Catawba, China Grove, Claremont, Cleveland, Conover, Denver, Hickory, Landis, Linwood, Mooresville, Mount Ulla, Olin, Salisbury, Sherrills Ford, Statesville, Stony Point, Troutman, Woodleaf, and surrounding areas.